Youth Ministry: March for Life (Grades 8-12)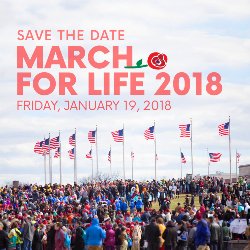 What

Youth Ministry: March for Life (Grades 8-12)

When

1/19/2018, 12:00 AM

–

11:59 PM

Where

Washington, D.C.
Youth in grades 8-12 are invited to join Guardian Angels Youth Ministry, in partnership with McNick Rockets for Life, for the annual March for Life in Washingotn, D.C. on January 18th-20th.
This event gathers adults and youth from all across the country to take a stand for the dignity of human life from conception to natural death! The cost is $150 per participant, and that includes travel, tips, tolls, and a dinner and rally at the Potomac Retreat Center after the March. Those interested may RSVP for one of a few limited spots using the included link, or email Bradley for more information.
The sendoff rally will take place on Thursday evening, January 18, 2018 at a parish TBD. All are welcome. Groups on AoC busses will have to meet or carpool to that send-off location.
Busses will leave at approximately 8:15 PM and travel on to Washington, DC. The schedule and times below are tentative:
6:45 AM Youth Rally at Verizon Center
8:30 AM Mass at Verizon Center
12 PM Rally at the Mall
1 PM March for Life followed by some time to meet with government leaders
5:30 PM Depart for the retreat center
7 PM Arrival at the retreat center for dinner, and an evening of prayer, debriefing and reflection.
10:30 PM Depart the retreat center for Cincinnati
6 AM Arrive back in Cincinnati
Contact the Youth Office if you'd like to join, or follow along at home with live video on Facebook (@GACincinnati) or Instagram (@GACinciYouth).
Copy to Google Calendar
•
Download iCal Event